I'm getting ready to rebuild my VW's Type-1 engine, and as mentioned in the last update, it doesn't exactly fit on my engine mount. If you're interested more about the problem itself and some of the thinking process, you can read the thread I started on The Samba (a popular Volkswagen forum) from when I was taking it apart. Essentially, the engine stand I bought was too big to fit onto my engine. Additionally, the tubes that hold the mounting bolts captive have a pretty large diameter, and if they were fitted directly to the flange on the rear of the engine I feared they would marr the surface or make a gouge. The engine isn't that heavy, but I figured it couldn't hurt if I had something that fit around the radius of the flange to provide extra leverage. This would also allow for all four fingers on the engine mount to be used for extra security.
It took some iteration with my friend Austin, a certified ME guru. With some inspiration from the submissions on the fourm we came up with this prototype and cut it out of some particleboard to test the fitment.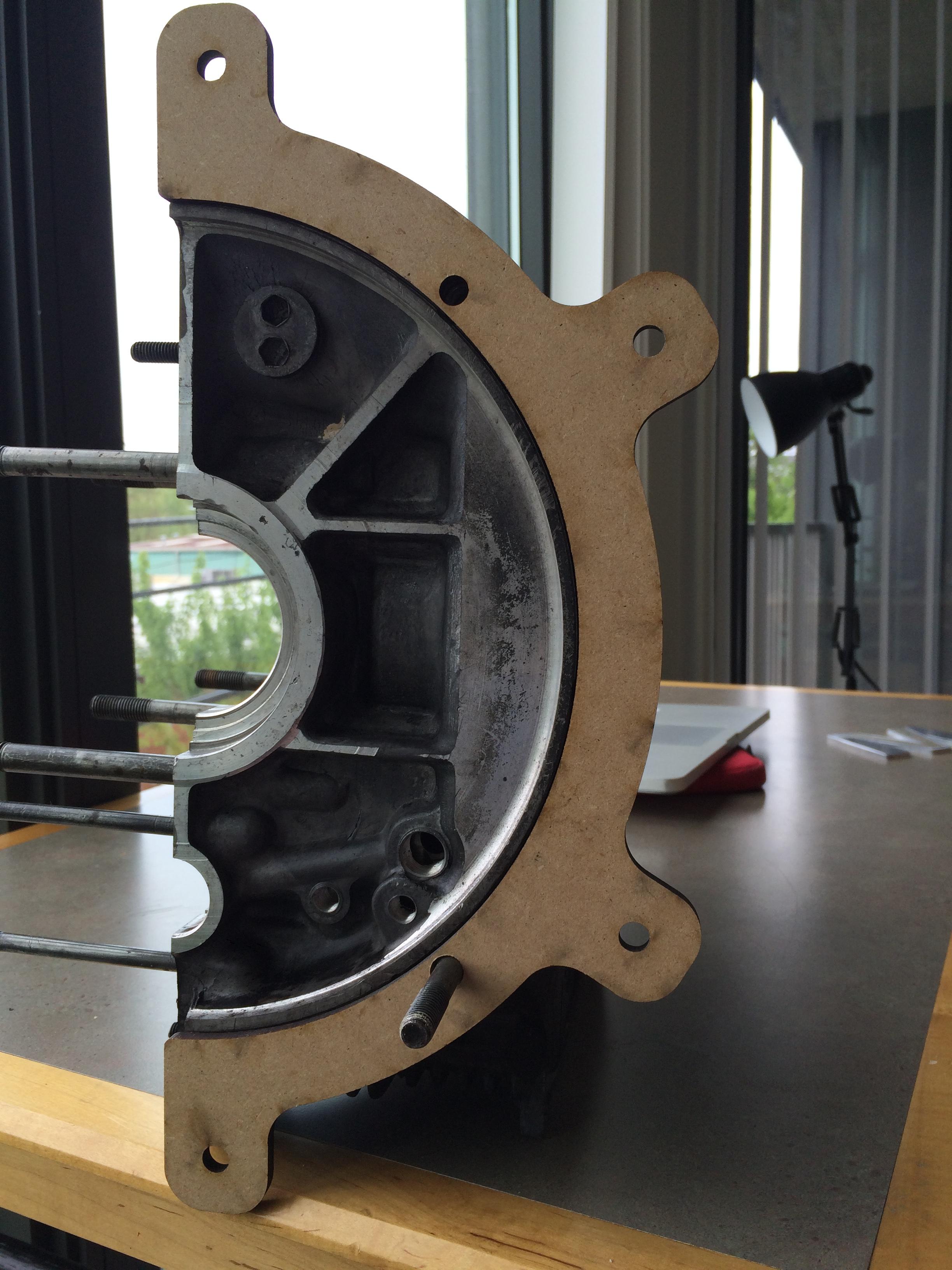 Having some experience with the Solidworks constraint tools really helped here. It allowed us to measure the hole locations on the back of the engine using only a few dimensions that were easily measureable, leaving the rest for the constraint solver to figure out. I think we found (can't find it now...) another drawing somebody else had done and were able to verify that our dimensions were correct. Printing more wood prototypes allowed us to verify that.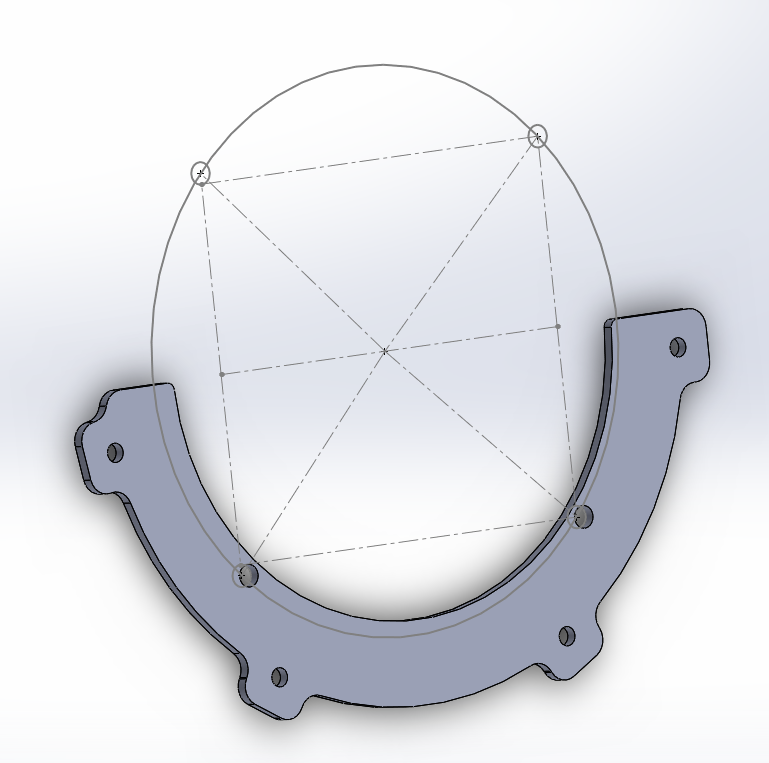 Obviously wood wasn't up for the challenge of holding the engine during assembly, so I ordered some quarter inch steel plate McMaster and picked it up at the will call. The adapter is quite large, so to save money, we split it in half, adding a little puzzle-piece cutout to align them with one another. This probably saved about $100, the smaller sheet cost about $45. A quick trip to the water jet later and the part was cut.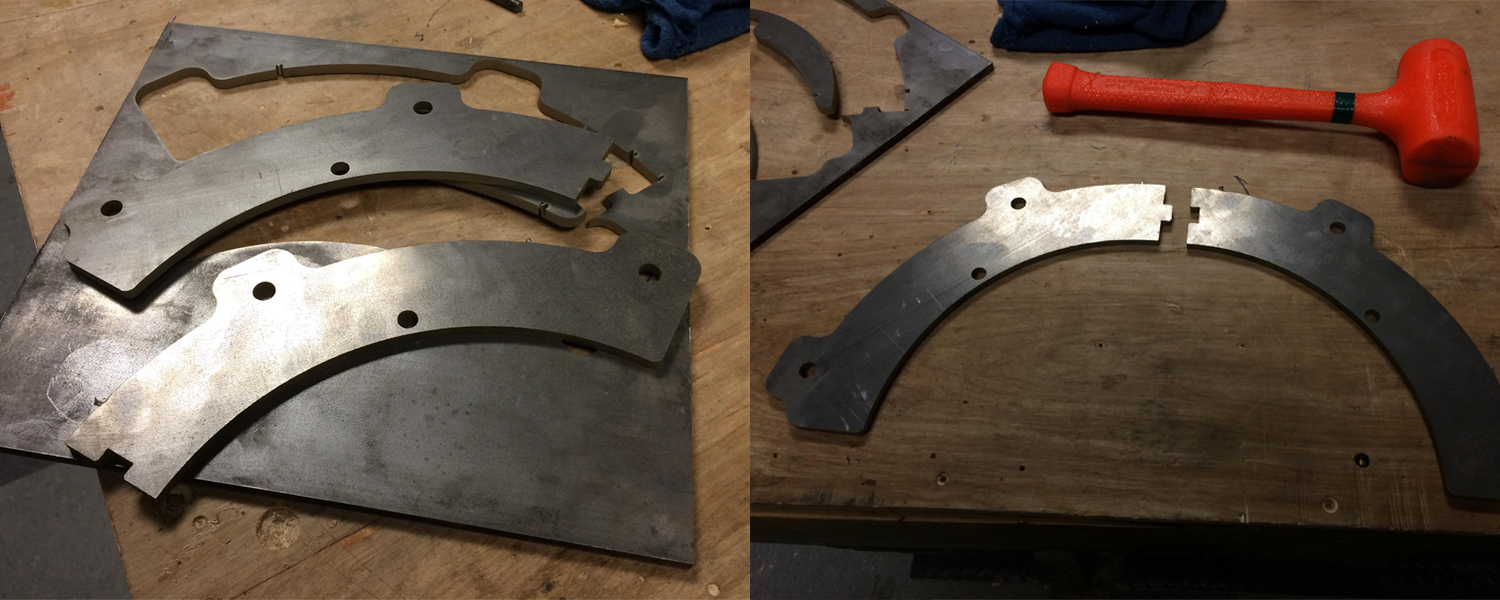 The tab attachment actually worked great. The water jet actually has a cut that expands a little bit as it goes through the metal (due to the water and garnet material spreading out in a cone shape) so the two pieces pressed together snugly. If they hadn't, I think it would have been fine, because each half is held to the engine mount by two fingers. After a quick trip to the bench grinder to soften up the edges, this is what the adapter looks like attached to the mount, and with the engine attached (with a little cameo by Austin).