When I installed the remote oil filter mount on my car (discussed in my engine rebuild entry) the hoses I had were a little too short for comfort to reach from the oil pump cover to the filter mount, which brought them a little closer to the exhaust than I would like. I did place some heat insulating exhaust wrap around the hoses, but I have still been worried that the oil is being heated by the exhaust. More seriously, I also placed a mild kink in the hose when trying to tighten both ends onto the fittings, so I've been worried that I've been running with reduced oil flow and pressure for a while.
I ordered some replacement hoses of longer length from Gene Berg Enterprises and just finished installing them. -- Here's what the hoses looked like before replacement. You can see the kink, and the proximity to the exhaust.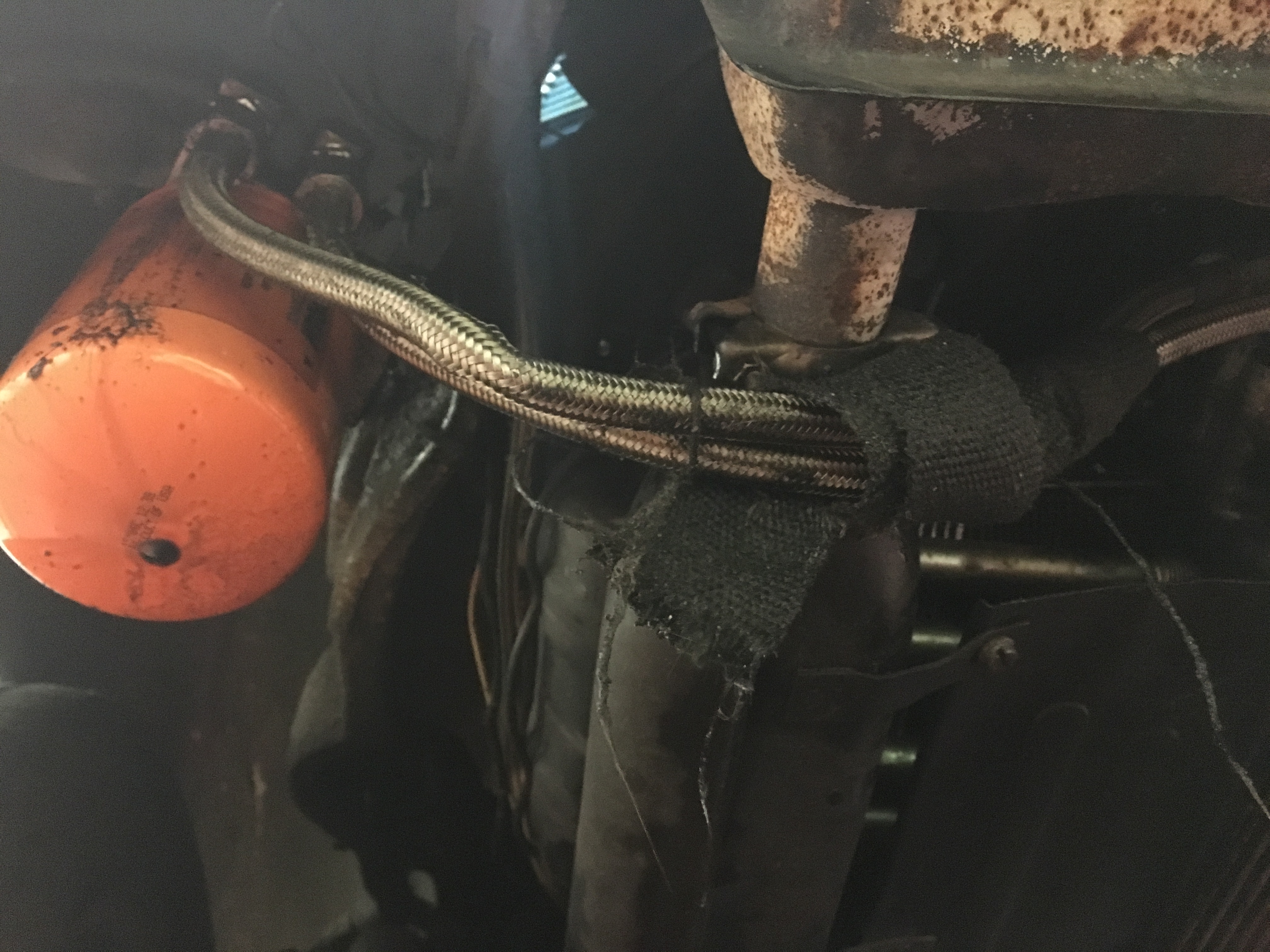 I had some trouble with oil leaks from these fittings in the past, so the challenge was to try and get as much oil and old teflon tape off of the fittings before reinstallation. I ended up using my phone as a borescope while using a small curved pick to grab the old teflon tape out from the threads of the male pipe fittings.
After a lot of careful cleaning I reinstalled the hoses. This time I was a lot more attentive to what the hose was doing as I tightened each end. It'd almost be nice if one end was reverse threaded so that the hose would want to tighten itself on both ends instead of kinking. The hose should be allowed to rotate freely, but tightening presses the flared ends of the hose up against the mating surface of the other fitting, preventing the hose from rotating.
Here's the end result. A lot cleaner than the previous installation, and the hoses are now comfortably below the exhaust. Hopefully the new teflon tape should keep them from leaking. (The oil temperature sensor can be seen in the first photo installed in the oil sump plate)